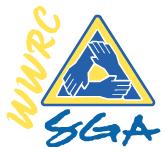 The officers of the SGA shall represent the students of WWRC in a positive manner throughout their terms of office at WWRC functions. The officers will maintain, to the best of their ability, the goals, purposes, and vision of the WWRC SGA and be cognizant of the constant necessity of building bridges, communication, and understanding among the WWRC clients, staff, and the community at large.
* Generally the officer's duties shall include:

- Review the expressed concerns of student and staff
- Plan the action necessary to uphold the goals and
purpose of the SGA.
- Plan functions approved by the SGA.
- Identify and participate in funtions and services at
WWRC.
- Seek approval for expenditures from the Management
Support Director for activities and events requiring
financial support.
- Keep accurate files and records of SGA activities and
actions.
- Maintain a committee structure, appoint chairpersons
and help those chairpersons to build an active and
supportive committee.
- Plan monthly meetings of the SGA.
- Meet weekly to review and act on the above.
- Listen to student concerns and help with problem
solving.
- Administer the duties above as a cohesive group and
support one another in their duties.